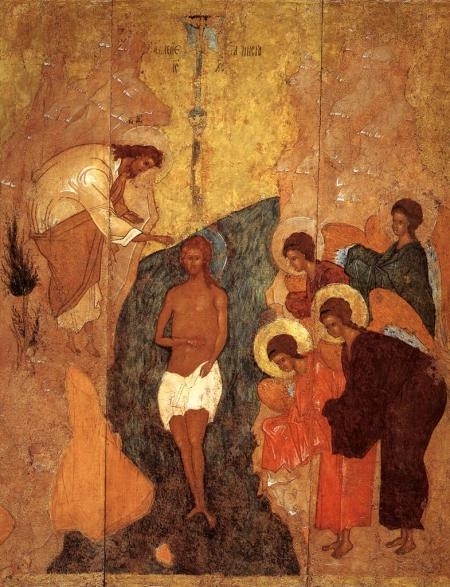 For, behold, the day cometh, that shall burn as an oven; and all the proud, yea, and all that do wickedly, shall be stubble: and the day that cometh shall burn them up, saith the LORD of hosts, that it shall leave them neither root nor branch. But unto you that fear my name shall the Sun of righteousness arise with healing in his wings; and ye shall go forth, and grow up as calves of the stall. – Malachi 4:1-2.
I indeed baptize you with water unto repentance: but he that cometh after me is mightier than I, whose shoes I am not worthy to bear: he shall baptize you with the Holy Ghost, and with fire:Whose fan is in his hand, and he will throughly purge his floor, and gather his wheat into the garner; but he will burn up the chaff with unquenchable fire. – Matthew 3:11-12.
One Lord, one faith, one baptism– Ephesians 4:8 
These are complex texts in which we dive in now, and yet they represent a very simple albeit powerful truth, that though there are three batpisms in the Christian tradition, yet there is but one baptism that ties them all together.  
We know that there are three baptisms: 1) The baptism in water; 2) the baptism in the Holy Spirit; and 3) the baptism of fire.
Only newer believers understanding the significance of the act typically receive water baptism within Protestantism.
The second baptism is a bit more controversial, but it is that of the Holy Spirit. Many denominations will have their interpretation as to what this means. Others, such as Pentecostals and Charismatics will have a clearer understanding (with experience), but often times may be legalistic in the application of it. But, as it is- when one believes on Christ, they receive the entire Godhead of Father, Son and Holy Spirit (Col 2:9). So, even prior to this experience, a believer has the Holy Spirit albeit, within the indwelling Christ. But there is an unmistakeable availability to receive the Holy Spirit as a 'second gift' after one has become a believer (Acts 8:14-17; 11:15-17; 19:1-6), the reception thereof being evidenced by the speaking in of other tongues (Acts 2:4; 8:18; 10:44-46; 19:6). More can be said on this, but it exceeds the scope and purpose of this article.
The third baptism is that of fire. Now with this final and 'deepest' baptism there is much misunderstanding. There are at least two approaches to this, both being wrong either in it's interpretation, an incompleteness of understanding, or else in it's application. It is either seen as 1) fiery trials, "a fiery baptism", or 2) as some unattainable height of super-spirituality pursued only through rigorous self-works and sacrifice.
To the first misunderstanding, we are told by Jesus Himself to pray, And lead us not into temptation…– Mt 6:13a, which literally means that we are to pray to not be led into the very midst of trialsome times, but rather to be delivered from the evil one.
As to the second misunderstanding, well, now that gets into the very heart of the matter. As the teaching goes, the baptism of fire is only attainable after setting yourself apart as a living sacrifice, giving up everything you hold dear, and basically popping a blood vessel in straining to give to Him your all- then the fire will fall, when the sacrifice is just perfect. But all this focuses on us, on our flesh (in it's religious aspects), and our performance in attempting this greater baptism. Yet, how is it that the first two baptisms come as gifts, or in answer to the Gift and yet the third (the 'holy of holies' of baptisms) would take us a step back from grace into self-works? Now we've fallen from a state of faith into that of self-effort? As Paul warned,
Are ye so foolish? having begun in the Spirit, are ye now made perfect by the flesh?– Ga 3:3
Yet, what is missed by those who think they're advanced by walking backwards passed the cross and it's finished work, is that these three baptisms are all linked together in understanding one baptism. Which one, the water baptism of Jesus? Close, but to the baptism Jesus pointed to and anticipated when He was baptized in water. As He Himself said,
But I have a baptism to be baptized with; and how am I straitened till it be accomplished! – Lk 12:50.
He does refer to a fire before this (v.49), but the baptism Jesus has in mind is His crucifixion as evidenced by what He tells James and John who wanted to be co-rulers with Him in His Kingdom, that they were to drink of His cup, and be baptized with His baptism (Mt 20:22; Mk 10:38). When Jesus was baptized in water, and John the baptist forbade Him, He said this key statement to him,
Suffer it to be so now: for thus it becometh us to fulfil all righteousness. – Mt 3:15.
Jesus' baptism fulfills all righteousness, not when He got wet in the Jordan river, significant as that was, but this act pointed to what His mission was, to be 'baptized' on the cross, in dying for us, and rising again from the dead. This is not only seen in what Paul writes about it, but he also includes us intimately in this act when we connect with it in our own baptism:
Know ye not, that so many of us as were baptized into Jesus Christ were baptized into his death? Therefore we are buried with him by baptism into death: that like as Christ was raised up from the dead by the glory of the Father, even so we also should walk in newness of life. For if we have been planted together in the likeness of his death, we shall be also in the likeness of his resurrection: Knowing this, that our old man is crucified with him, that the body of sin might be destroyed, that henceforth we should not serve sin. For he that is dead is freed from sin. Now if we be dead with Christ, we believe that we shall also live with him: Knowing that Christ being raised from the dead dieth no more; death hath no more dominion over him. – Rom 6:3-9.
The apostle Paul also states very powerfully that if Christ died for all, then all died and rose again in Him (2Cor 5:14-17).
What this means for us is that this one baptism ties together all three baptisms, including the baptism of fire, that it is not a thing of works, nor that of self-effort, but of faith in the finished work of Christ. Is it a matter of sacrifice? Yes- but His sacrifice for us on the cross, wherein He presented us, and all of humanity, as holy and perfect to God- putting to death all that is unclean or unsavory in us, and rising again as a new humanity, an accepted, righteous, and perfect humanity. This is a key to the secret of witnessing the Sun of Righteousness arising in our own hearts:
I beseech you therefore, brethren, by the mercies of God, that ye present your bodies a living sacrifice, holy, acceptable unto God, which is your reasonable service. And be not conformed to this world: but be ye transformed [lit. transfigured] by the renewing of your mind, that ye may prove what is that good, and acceptable, and perfect, will of God. – Rom 12:1-2.
See this verse with new eyes, how we are to present ourselves as bodily before the Lord, not as sinful, not as unworthy, not as defeated and inferior worms! Rather, we present ourselves before Him as a living sacrifice, because whatever was unsavory of us died with Him in His sacrifice. We live because He lives, in His resurrection. We present ourselves as holy and acceptable to God! That's powerful. What about if we've sinned, if we've done wrong? That is why Paul says that we do this by the mercies of God. No matter how one has 'blown it'- if they simply come to God, not on the basis of their perfect performance, but on His mercies, on the basis of grace, they present themselves as they've already been represented before the Father in Christ's death and resurrection- baptized with Him.
This sacrifice then, is not us doing so much, but is an entering into, a believing into His sacrifice. Now, as was true when the prophet Elijah faced down the prophets of Baal, it was said,
…and the God that answereth by fire, let him be God. – 1Kgs 18:24.
This sacrifice is the very means by which we've been made righteous, that is, in right-standing with God.
But now a righteousness coming from God has been brought to light apart from any Law, both Law and Prophets bearing witness to it– a righteousness coming from God, which depends on faith in Jesus Christ and extends to all who believe. No distinction is made;for all alike have sinned, and all consciously come short of the glory of God, gaining acquittal from guilt by His free unpurchased grace through the deliverance which is found in Christ Jesus. He it is whom God put forward as a Mercy-seat, rendered efficacious through faith in His blood, in order to demonstrate His righteousness– because of the passing over, in God's forbearance, of the sins previously committed–with a view to demonstrating, at the present time, His righteousness, that He may be shown to be righteous Himself, and the giver of righteousness to those who believe in Jesus. – Rom 3:21-26, 1920 Weymouth New Testament.
When a person wakes up to this, realizes this- what is believed on by faith, there is a powerful transfiguration that takes place, even as the Lord demonstrated on Mt. Tabor when He was transfigured before His disciples, and He manifested the Kingdom of God to them through Himself (Mt 17:1-8). At that time, as it was written of Him:
And was transfigured before them: and his face did shine as the sun, and his raiment was white as the light. – Mt 17:2.
Notice that His face did shine forth as the sun, this is significant, because again it is written,
Then shall the righteous shine forth as the sun in the kingdom of their Father. Who hath ears to hear, let him hear. – Mt 13:43. And again,
But the path of the just [Heb. tzadik, righteous] is as the shining light, that shineth more and more unto the perfect day. – Prov 4:18. And again,
We have also a more sure word of prophecy; whereunto ye do well that ye take heed, as unto a light that shineth in a dark place, until the day dawn, and the day star arise in your hearts – 2Pet 1:19. And finally,
Awake to righteousness, and sin not; for some have not the knowledge of God: I speak this to your shame. – 1Cor 15:34.
A time comes perhaps as soon as we truly believe (or awaken to the Lord's belief) that we are right with God, in right-standing, even that we have become the very righteousness of God in Him (2Cor 5:21), that toward this truth Christ Himself shines in our heart as a beacon, even as Venus heralds the dawning of the Day.
This is the baptism of fire, and it is when the fiery nature of the Sun of Righteousness, even Yahweh as our Righteousness (Jer 23:6; 1Cor 1:30-31), arises in our hearts, shines forth, and burns forth. What is burnt up? The 'wicked'- and all they that do wickedly- this is not a matter of 'these people', or 'those people', but the 'wicked' person in us, what is capable of both good and evil, the flesh, the old man, all that is burnt up in the fires of righteousness when it so arises. This may come in degrees, even as the Day doesn't spring up all at once- as if noon-day started at 6:00 a.m., no. But, once the Day dawns, it comes and none can stop it, particularly the carnal mind which gets burnt up. "Leaving neither root nor branch"- as Malachi prophesied, that both the works, and the very roots of those works are obliterated in that Light. This is an inner healing. And one has the perspective of growing and maturing as "a calf of the stall"- and yet while this may be one's inner attitude (as a living sacrifice), yet there is a greater witnessing that takes place:
My dove, my undefiled is but one [lit. "is one"]; she is the only one of her mother, she is the choice one of her that bare her. The daughters saw her, and blessed her; yea, the queens and the concubines, and they praised her. Who is she that looketh forth as the morning, fair as the moon, clear as the sun, and terrible as an army with banners? – Sos 6:9-10, again,
Set me as a seal upon thine heart, as a seal upon thine arm: for love is strong as death; jealousy is cruel as the grave: the coals thereof are coals of fire, which hath a most vehement flame. Many waters cannot quench love, neither can the floods drown it: if a man would give all the substance of his house for love, it would utterly be contemned. – Sos 8:6-7
May we all come to this all-consuming Love, and it's fiery rising.
Invite Leon to Speak