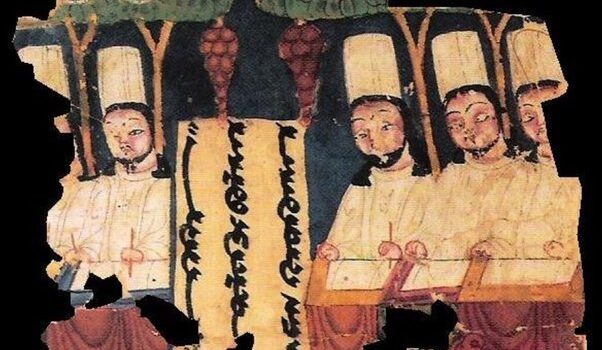 Preliminary reading: Numbers 6; Judges 13:5, 7; Lamentations 4:7; Amos 2:11-12.
Is the Nazarite vow for today? Not as a literal vow, but we will see it as a spiritualized consecration. And this will apply specifically toward Pentecostal/Charismatic believers. These are they who've received the Holy Spirit as evidenced by speaking in other tongues. Of course all believers are to live holy and consecrated lives unto the Lord (2Cor 7:1; 1Pet 1:15-16). But this consecration has a close affinity to the Holy Spirit, Who is, contrary to what most believe, received after salvation (Acts 19:1-2, 6).
This is not a call toward legalism. In fact, there may be no outward sign that one so consecrated is any different from any other. But their inward state is that they are …separate from [their] brethren – Gen 49:26b.
We discuss here the Nazarite consecration derived from Numbers 6 as a type of walking in the Spirit.
Opening remarks:
1. This article is not about a literal Nazarite vow. It's not about long hair, or about abstaining from wine, grapes, or attending funerals.
2. The Nazarite vow as a spiritual truth, is a type and shadow, and not literal (Col 2:16-17). This will not be what many modern legalistic believers have made it to be.
3. By Pentecostal is not meant the denomination, but the Spirit-baptized as described above. 
4. I'll not in this article seek to prove the baptism of the Holy Ghost as herein understood. I will assume that the reader understands this definition or has experienced it.
5. This consecration is not about separating from things as much as it is a separation unto the Lord.
6. Neither is this something we do, but already accomplished in Christ, and walked out by us. 
Definitions
Before proceeding, let's establish a few definitions. The word Nazarite comes from the Hebrew נזר / נזיר nâzı̂yr / nâzir, defined thus by Brown-Driver-Briggs:
Consecrated or devoted one, Nazarite. A consecrated one; devotee, Nazarite; an untrimmed (vine).
And by Strong's (H5139):
Separate, that is, consecrated (as prince, a Nazirite); …an unpruned vine (like an unshorn Nazirite).
Nazarite Vow in the New Testament?
Christ was not a Nazarite. The terms Nazareth and Nazarite are translated from two different words in Hebrew. But this became confounded by some misguided teachers. Christ called the Nazarene (Mt 2:23), from his home town of Nazareth, is from the Hebrew word נֵצֶר – netzer. The meaning is "…sprout, shoot, branch (always figurative)" – BDB (H5342). Thus Christ as a Nazarene (and not a Nazarite) is by the prophecy about Him as The Branch (Isa 11:1).
Are there any in the New Testament who kept a literal Nazarite vow? John the Baptist had a life long vow (Lk 1:13-15). And the Apostle Paul with certain believers in Jerusalem had a temporary vow on them (Acts 18:18; 21:23-26). Besides Paul and the Jewish believers, the Gentiles were never meant to keep it (Acts 15:1-29). In fact, Jesus said to never make a vow, or swear to an oath (Mt 5:33-37)!
But you have some, often in Pentecostal or Charismatic circles, who try to follow the Nazarite vow. They grow out their hair and beards. Additionally, they abstain from grape juice and alcohol, and never attend funerals. But are they true Nazarites? Or, are they weird legalists who think that they're closer to God because of their actions? No doubt the latter is true. But the only way we can gain anything from this vow is after its spiritual meaning in Christ.
The fact is, you and I are completely made holy right now by the blood of Jesus Christ. This is true once and for all, as this sanctification is permanent (Heb 10:10, 14). Under grace you cannot add to nor take away from your sanctification in Christ. Performing a Nazarite vow, as if to add onto the perfect work of Christ, is an insult to God. 
The Pentecostal Connection
There is a Pentecostal connection to the Nazarite vow. If approached spiritually by faith, the Nazarite vow can become a consecration. It won't have anything to do with vowing to not touch this, or to not drink that after manmade regulations (Col 2:21-22). But what then is it? We will show that the Nazarite consecration is about walking in the Spirit in a sustained way.
What connects the Nazarite vow to Pentecost?
1. The word נזר – nazir begins with the letter נ – nun, which in Hebrew gematria (where letters equal numbers) = 50. This is the number of Pentecost (Lev 23:15-22). This links it to the Day of Pentecost when the Church received the Holy Spirit (Acts 2:1-4).
2. Wine as a symbol of the Holy Spirit (Num 6:3; Eph 5:18; Acts 2:4, 13, 15).
3. Oil as a symbol of the Holy Spirit (Num 6:15; Lev 21:12 where crown = nazer; Isa 61:1; Acts 10:38).
4. The Spirit's aversion to death (Num 6:6-7; Gen 8:9-12; Lk 3:22).
5. Hair as a symbol of the Spirit (Num 6:5; 1Sam 1:11 [cp. Jud 13:5; 16:17-20; 1Sa 16:14; Acts 1:8; 10:38]). Hair as also symbolic of the 'crown' of anointing (Lev 21:12).
The Crown of Anointing
It is evident above that the Nazarite vow is something that is connected to the Holy Spirit. This takes it from a literal to a spiritual or symbolic meaning.
Neither shall he go out of the sanctuary, nor profane the sanctuary of his God; for the crown of the anointing oil of his God is upon him: I am the LORD. – Lev 21:12 
Behold, I come quickly: hold that fast which thou hast, that no man take thy crown. Him that overcometh will I make a pillar in the temple of my God, and he shall go no more out… – Rev 3:11-12a.
Pray without ceasing. – 1Thess 5:17.
But ye, beloved, building up yourselves on your most holy faith, praying in the Holy Ghost, Keep yourselves in the love of God… – Jud v.v.20-21a.
I thank my God, I speak with tongues more than ye all – 1Cor 14:18.
Know ye not that they which run in a race run all, but one receiveth the prize? So run, that ye may obtain. And every man that striveth for the mastery is temperate in all things. Now they do it to obtain a corruptible crown; but we an incorruptible. I therefore so run, not as uncertainly; so fight I, not as one that beateth the air: But I keep under my body, and bring it into subjection: lest that by any means, when I have preached to others, I myself should be [disqualified]. – 1Cor 9:24-27.
The above texts suggest a life in the Spirit that is constant, where we never come out. It suggests pursuing a competitive devotion, like Olympian athletes seeking the highest prize. Though this competition is secret and not boastful. How would we train for this? How disciplined would we have to be? We have received the crown of anointing. And God's intent is that we not only live in the Spirit, but walk in the Spirit (Ga 5:25). Not only so, but we walk so as to never come out! This anointing is so powerful that men (1Cor 3:3) will try and take your crown, or get you in the flesh, if you allow it. What kind of man or woman of God would we be if we so lived? And what if we failed? Under grace, even if we compromised our consecration, we may get up and run again.
Nazarite Consecration: to Vow or to Be?
In the Old Testament application, one had to separate themselves to perform the vow of a Nazarite (Num 6:2-3ff). This, however, is not to be a literal vow for us today. Why? Christ said,
Again, ye have heard that it hath been said by them of old time, Thou shalt not forswear thyself, but shalt perform unto the Lord thine oaths: But I say unto you, Swear not at all… But let your communication be, Yea, yea; Nay, nay: for whatsoever is more than these cometh of evil. – Mt 5:33-34a, 37.
So if we're to not swear or make oaths, how then do we consecrate ourselves to the Lord? How can we appropriate the spiritual truths of the Nazarite vow without vowing? The apostles Paul and Peter give us the answer:
Wherefore come out from among them, and be ye separate, saith the Lord, and touch not the unclean thing; and I will receive you… – 2Cor 6:17.
But as he which hath called you is holy, so be ye holy in all manner of conversation; Because it is written, Be ye holy; for I am holy. – 1Pet 1:15-16.
We are to be holy, to be separate, which admits to the finished work of Christ. To vow, promise or swear to become holy or separate admits that it is not done, or that we have to do something to accomplish it. This is of course false. 
There are those who separate themselves today. They may appear religious or super-spiritual, but they're of the flesh and not of the Spirit (Col 2:16-23; Jud v.19; Ga 2:12). Discern between they who separate themselves from those separated in the Spirit.
Before we discuss the areas of consecration, we have to emphasize that this is not something we keep. This is not something we ourselves make happen, or that we succeed or fail at. Before we entertain the notion of this consecration, we must know our sanctification in Christ (1Thess 5:23-24; Heb 10:10).
The Nazarite consecration is first a separation unto God before anything else (see Num 6:2-3). Fulfilling a Nazarite vow or defiling it, equalled the the same thing, animal offerings and a shaven head (cp. v.v. 9-21). There are of course distinctions between how the consecration ended, but the point for now stands. Whether we fulfill our consecration or fall short of it, the cross of Christ is the only basis for holiness. There are benefits for keeping our consecration, however. The longevity of our consecration does matter, symbolized by the length of hair.
Areas of Consecration
Speak unto the children of Israel, and say unto them, When either man or woman shall separate themselves to vow a vow of a Nazarite, to separate themselves unto the LORD… – Num 6:2.
There were three main areas of consecration under a Nazarite vow. We will discuss each with its spiritual meaning, applicable to today's Spirit-filled believer.
I. Enjoyment: pleasures only in God
He shall separate himself from wine and strong drink, and shall drink no vinegar of wine, or vinegar of strong drink, neither shall he drink any liquor of grapes, nor eat moist grapes, or dried. All the days of his separation shall he eat nothing that is made of the vine tree, from the kernels even to the husk. – v.v. 3-4.
This aspect is on separation from the pleasures of the flesh:
But I keep on beating and bruising my body and making it my slave, so that I, after I have summoned others to the race, may not myself become unfit to run. – 1Cor 9:27, Williams (cp. Col 3:5).
Seeing the Nazarite vow in lieu of the above text is key to understanding the whole consecration. Not only so, but when practically applied, we will catch a glimpse of true Pentecostal holiness. The call to abstain from alcohol or any grape products, is not necessarily about literal alcohol. Rather it's about waiting to experience pleasure in the Kingdom, that is, in the Spirit. Jesus said,
But I say unto you, I will not drink henceforth of this fruit of the vine, until that day when I drink it new with you in my Father's kingdom. – Mt 26:29.  
Christ alluded to prophecies about enjoyment of the new wine in the millennium (see Joel 3:18; Amos 9:13; Zech 9:17). But consider that they twice offered Jesus sour wine (called vinegar) at the cross. The first time, before His crucifixion, in keeping with His vow, He refused (Mt 27:34). The second time, He took it and drank (Mt 27:48-50; cp. Jn 19:28-30). Why? Because His crucifixion had now ushered in the Kingdom of God. In fact, before being offered sour wine the second time (which He drank), to fulfill the scriptures, He said, I thirst (v.28).
Yet, what did the apostle Paul say about the Kingdom?
For the kingdom of God is not meat and drink; but righteousness, and peace, and joy in the Holy Ghost. – Rom 14:17.
The Kingdom of God is here and now in the Spirit. Christ said that His Kingdom was 'at hand' (Mt 4:17). When we walk in the Spirit, we're establishing and enforcing the Kingdom of God on earth. We express all the things given us in Christ: righteousness, peace and joy, by walking in the Spirit. And instead of drinking wine unto excess, we imbibe the Spirit, the new wine. Why? Because we're in the Spirit and not in the flesh (Rom 8:9). We referred earlier to this connection between wine and the Holy Spirit:
And be not drunk with wine, wherein is excess; but be filled with the Spirit; Speaking to yourselves in psalms and hymns and spiritual songs, singing and making melody in your heart to the Lord; Giving thanks always for all things unto God… – Eph 5:18-20a.
Let's consider the scope of this mandate. It includes all things that are pleasurable in this life, whatever makes glad the heart of man (Ps 104:15). Whatever enjoyments can potentially cause a loss of sobriety, or inebriation, are included here. This can also include subjective states of the heart, such as excessive emotions. But pride is especially related to drunkenness (Isa 28:1, 3). Note that Ephraim means fruitfulness (Gen 41:52).
This isn't an invitation to a drab life of legalistic rules, "Don't touch this and don't do that!" But it's a call to have an inner watchfulness. We have freedom to enjoy all things (1Cor 6:12; 10:23). But as we do so, are we under the control of, and abiding in the Spirit? Does your enjoyment preclude or exclude the Spirit? Can you enjoy this or that while in the Spirit? That is the question. Of course whatever we know to be sin excludes enjoyment in the Spirit. But one can and should enjoy all things in God. Enjoying to excess may cause the soul to eclipse the spirit (see 1Thess 5:23; Heb 4:12). Our human spirit should always bear rule, and not the psychological-self.
Let's consider some finer points on this:
1. Abstinence from grapes, grape juice, wine or grape products of any kind was …from the kernels even to the husk. – Num 6:4b.
What does this mean? When forbidden to partake of something, many often play around the edges, seeing how far they can go. What can they get away with? They may not be eating the husk, but are for sure partaking of the kernals. Jesus said,
And whosoever shall compel thee to go a mile, go with him twain. – Mt 5:41.
The law forbids us to do something, for example, …thou shalt not kill  (Ex 20:13). If we're legalistic, we may go a mile and not actually kill anyone, but in heart we fail to go two miles. How? Because if we hate someone in our heart, we're no different than a murderer (1Jn 3:15). The second mile is always about the heart.  
Thus, the Nazarite consecration is not about the separation itself. But is it from the heart? Are we first separated unto the Lord before we separate from anything else? This separation of heart includes anything that even hints towards the actual thing abstained from.
2. Christ spiritualized His blood as drink for us (see Jn 6:48-64).
We are commanded to eat His flesh and drink His blood, otherwise we have no life within us (v.53). Eating His flesh and drinking His blood is the secret of dwelling in Christ and He in us (v.v.56-58). This is outward faith versus inward experience. The graphic teaching was too much for many of His disciples, who no longer walked with Him (v.v.60, 66). But what did Jesus mean? The flesh profits nothing, that is, the literal meaning is useless here. His words (the scriptures) are spirit and life. To experience Jesus in a deeper way is to hear His words on a deeper level, to spiritualize what may be literal. This is to drink the wine of His blood, when we drink it new in the Kingdom of God, not after the letter but after the spirit (2Cor 3:6; 5:16-17).
3. Nazarites were not to imbibe strong drink (v.3).
This included any hard liquor, such as wiskey. What is the spiritual meaning? This refers to hard doctrines. These include teachings on wrath, damnation, judgment and hell-fire (Job 21:20; Ps 60:3; 75:8; Isa 51:17; Jer 49:12; Rev 14:10; 16:19). You are to refrain from giving strong drink to yourself or to others. Your teaching is on the grace of God. You refrain from teaching the law of sin and death (Rom 8:2). We don't deny divine wrath, but that it belongs to those under the law. The fruits of the Spirit do not include wrath, anger, or retribution (Ga 5:22-23). Walking in the Spirit, we bear His fruits. When the apostle Paul spoke of judgment to come, it was toward unbelievers, but in the context of faith in Christ (Acts 24:24-25).   
II. Submission: devotion only to God
All the days of the vow of his separation there shall no razor come upon his head: until the days be fulfilled, in the which he separateth himself unto the LORD, he shall be holy, and shall let the locks of the hair of his head grow. – Num 6:5.
This aspect is on separation from the devil in our submission to God.
Submit yourselves therefore to God. Resist the devil, and he will flee from you. – Jas 4:7 (cp. 1Cor 11:10).
Here, as was true about wine, it's not about the length of our hair. In fact, the meaning of this aspect is reversed in the Spirit! Under the Old Covenant, the length of hair of a Nazarite was an outward sign that he was under this vow to God. In the New Covenant, keeping one's consecration a secret is to have long hair in the Spirit, as an inward sign. If someone wears their hair long to show others that they're under this vow, they're not an actual Nazarite. Why? This is a violation of keeping your spirituality secret from others (Mt 6:5-6, 16-18).
Consider how Paul taught on long hair (see 1Cor 11:3-15):
The Head of every man is Christ, the Head of Christ is God (v.3). Paul here discusses headship or authority. The unshorn hair of a Nazarite was to be a crown unto him (Lev 21:12, where crown = nazer). To cut the hair is when one loses the crown of their consecration. Long hair for a woman is a covering or veil (v.15). She is under obedience to her husband, and covered or veiled because of the angels (v.10; cp. Gen 6:1-2). The differences between men and women are here taken as spiritual truths. Nazarites, whether male or female, wore their hair long as a sign of separation unto God (Num 6:2). This renders the separation from a razor as a spiritual truth.
As such these separate ones are female to the Lord their Bridegroom Lover. Their soul (psychological aspect) is female in relation to their spirit-man. And so their long hair is a sign of being under divine authority and Lordship. Their submission is unto the Lord, and they have power on their head.
Being uncovered, as a man has short hair (v.v.4-7), refers to being in the image of God, which both men and women are (Gen 1:27). Being covered, as a woman is with long hair (v.15), refers to her hiddenness, protected under power. It also shows her as being the glory of the man (v.7). As veiled, covered, or secret, her glory belongs to her husband only.
And so it is with the long hair of a Nazarite. His or her glory belongs only to the Lord, and is thus a secret. Their consecration to the Lord is behind the veil of their submission to God. Thus a man who's covered, having long hair, denies the divine image. A woman who's uncovered, having her hair shaved, denies the authority on her. In a spiritual sense, as men (outward) we reveal the divine Image, but as women (inward) we are under power (1Pet 3:4). 
This was the case of Samson, who was a Nazarite from his mother's womb. His hair length symbolized the extent of his submission to God, and was the secret of his great strength (Jud 16:17).
Hair symbolizes longevity, as it takes time to grow. The longer we're under divine authority, the greater our spiritual strength. The veiling of the extent of our submission to God is from prying eyes. Our personal consecration is the hidden source of our spiritual strength. Instead of being an outward sign, it is an inward veil hiding our consecration from others.         
III. Associations: relationships only in God
All the days that he separateth himself unto the LORD he shall come at no dead body. He shall not make himself unclean for his father, or for his mother, for his brother, or for his sister, when they die: because the consecration of his God is upon his head. All the days of his separation he is holy unto the LORD. – Num 6:6-8.
This aspect is on our separation from the world.
Love not the world, neither the things that are in the world. If any man love the world, the love of the Father is not in him. For all that is in the world, the lust of the flesh, and the lust of the eyes, and the pride of life, is not of the Father, but is of the world. And the world passeth away, and the lust thereof: but he that doeth the will of God abideth for ever. – 1Jn 2:15-17 (also Jas 4:4).
There are several things that are dead in their relation to us:
1. We are dead to the world (Ga 6:14);
2. The body is dead because of sin (Rom 8:10);
3. We're dead to the law (Rom 7:4; Ga 2:19);
4. Unbelievers are dead in tresspasses and in sins (Eph 2:1-5; 1Tim 5:6).
5. Also, we're dead to the flesh and the old man (Rom 6:5-11).
While these are several applications of this truth, our relationships are the focus of this vow (Num 6:6-9). On discipleship Christ spoke of one's family,
Follow me; and let the dead bury their dead. – Mt 8:22b.
This is to be our attitude toward the world, even our closest relationships. Jesus said again,
If any man come to me, and hate not his father, and mother, and wife, and children, and brethren, and sisters, yea, and his own life also, he cannot be my disciple. – Lk 14:26.
Our love for Christ ought to be so great that any other love would be hate in comparison. If any relationship interferes with our love for God, we are to shun it as a corpse.
We're not willing to come out of the Spirit for father, mother, children, or any other relation. What does this mean? Unbelievers are yet dead in their spirit. They may argue with you, or put you in a compromising situation. These things are a spiritual corpse that you should not come out of the Spirit to touch. Even within the church, marital or familial relations, we may encounter the flesh. The fruits of the Spirit will guide our proper response in each case.
If our consecration is defiled regarding any of the above, we can recommit ourselves anew. How? By presenting ourselves to God by His mercies (Rom 12:1-2).
Benefits of the Nazarite Consecration
What are the benefits of a Nazarite Consecration? Remember, this consecration is by walking in the Spirit in a personalized way (Ga 5:16, 25).
According to Numbers 6, the benefits are:
1. Access toward the Church through Christ the Door (v.13; Jn 10:9).
2. Sinlessness (v.15; 1Cor 5:6-8; 10:17; Ga 5:9).
3. Greater anointing (v.15; Isa 61:1; Acts 10:38).
4. Consumed by the fire of God (v.18; Mt 3:11; Heb 12:29).
5. Spiritual service (v.v.19-21; Ps 81:6).
6. Infilling of the Spirit (v.21; Eph 5:18; Acts 2:4, 13, 15).
7. Deeper purity and holiness (Lam 4:7).
8. Renewed youth and vitality (Lam 4:7; Isa 40:31).
9. Polishing of the heart and seeing divine riches (Lam 4:7; Mt 5:8; 1Cor 13:9-12; 2Cor 3:18).
But here's the secret: in Christ, all these things are already ours. The difference is simply that by walking in the Spirit, speaking in tongues and being spiritually minded, we easily experience and realize these truths (Jude v.v.20-21; Rom 8:4-6).
In Conclusion
Most treat this subject as an Old Testament oddity. Others practice it as a legalistic vow superimposed on their Christianity. But we can see the spiritual truths of the Nazarite vow through the lens of the Gospel. What we see is normal Christianity lived out by walking in the Spirit. This is taking the apostle Paul at his challenge to run this race called Christianity as if we intended to win. This is what it would be if we disciplined ourselves as Olympian athletes (see 1Cor 9:24-27).
Our day is fraught with temptations to conform to the ever degenerating norms of the world. But this is not a call to standout as a holier-than-thou Christian. We're not called to stand apart from the Church, nor to condemn the world. This is a call to uplift the world and the Church by your life of prayer. Our's is a place of secret-consecration, not a loud religiosity. We abide in a quiet and hidden state, unknown to men.
None can discern your Nazarite consecration by your outward appearance. Your hair may be short, you may (or may not) have that glass of wine with dinner, and you may attend a relative's funeral. But your inward separation to God is such that no man knows it, while you have power in the spiritual realm. You're separated from the world, and it may not be obvious to others, but what they deem important holds no interest to you. It's a paradox, you love the world, but at the same time are separated from it. You love people, but you hate this fallen world-system.
Only they who know where their holiness and separation come from need apply. Christ is our righteousness and sanctification (1Cor 1:30-31). We live in the Spirit if we've received the Spirit (Act 19:2-6; Rom 8:9). But now, living in the Spirit, we seek to better walk in the Spirit (Ga 5:16, 25). The Nazarite consecration is then a way for us to focus our intentions to do that. We know that either way we're forgiven, and saved by the sacrifice of Jesus Christ. But to abide in this holiness, our hope is to walk in the Spirit and to never come out. 
Amen. 
The Nazarite Consecration and Pentecost